Produce 101 China (创造101), also known as Chuang 2018, was a reality television series broadcast by Tencent Video. It is the first series within the Produce Camp series.
The 11 finalists debuted as Rocket Girls 101.
Schedule
[
]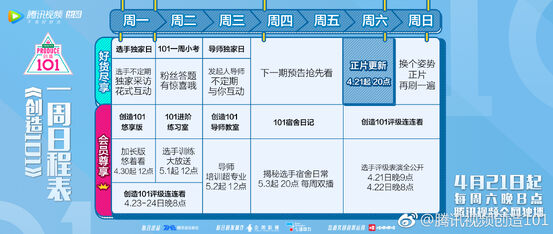 Overview
[
]
Since the success of Super Girl in China, there has yet to have been a national show that has sparked a strong interest from audiences in the same manner. Subsequently, while the show launched the careers of many talented solo vocalists, there has been a lack of girl groups in the Chinese speaking world. The biggest girl group in the early 2000s was S.H.E, and since then, there has arguably been a lack of well-known cohesive girl groups that have been as successful. The show aims to create a brand new "it" girl group that represents modern women and appeals to all genders for the new generation.[1]
Show Mechanics
[
]
Inclusion of "knock-out" challengers (fill-in trainees) who can take the place of a 101 member in the original "auditions" based on mentors discretion of the challengers' skills in comparison to the original trainees were introduced in Episode 2. In the first elimination, certain members who had highest votes could also choose to save a member who was up for elimination as a second chance "intern" (pending trainee). [2]
Mentors
[
]
Tiger Hu

Jason Zhang

Show Lo

Wang Yi Bo
Guests
[
]
Hu Yi Tian

Xiong Zi Qi

Xiao Zhan

Wei Da Xun

Yoga Lin

Ma Dong

Huang Bo

Eddie Peng

Jiang Wen

Patty Hou
Trainees
[
]
Aftermath
[
]
The 11 finalists debuted as Rocket Girls 101: Meng Mei Qi, Wu Xuan Yi, Yang Chao Yue, Duan Ao Juan, Yamy, Lai Mei Yun, Zi Ning, Sunnee, Li Zi Ting, Fu Jing and Xu Meng Jie. They debuted on June 23, 2018 with the single "Rocket Girls".
References
[
]
Official links
[
]